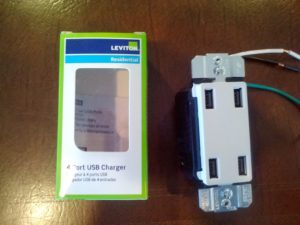 How many times have you been in need of charging your device and all you have is your USB cable without an adapter for a standard outlet? Ok, that happens to us all the time and it's really annoying because usually you need your tablet, smartphone or device to charge up now and the adapter is always no where to be found.  It should be as easy as plugging it in, right?  But, unfortunately most homes only have standard outlets that require a USB adapter.  We would like to tell you about an exciting new electrical outlets that are cutting edge & convenient that have revolutionized the way we charge our much-needed devices and we think it's so cool, that we're now providing them in every custom home we build as a standard feature!
Introducing the USB outlet!  We mentioned this briefly in a previous post on custom home trends for 2014 and the more we thought about it, the more sense it made to us that this is a necessary feature that every newly built home should have.  We are now including two 4-port USB outlets in all of our homes and are currently using the ones made by Leviton.  There are a few different styles of USB outlets and combinations from a dual USB and standard wall outlet, sized like a duplex outlet but the USB's are on the top to a 4-port USB outlet that fits in a standard duplex, but is all USB.  They even come in a variety of colors to match any décor.
The beauty of these USB outlets is that they will charge all of your electronic devices from iPads and phones to gaming devices and eReaders. The kind that we are using has a "smart chip", so it will detect when your device is at optimal charge and will automatically shut off so you don't have to worry about killing your battery by overcharging it. This is a practical trend for the way today's families live and we are excited to provide these USB outlets for our custom homebuyers.
There are so many advanced products and materials that have been developed over the past decade for home construction, but we have to be honest, this is one of the most exciting home features we have adopted in our construction recently.  Who would have thought that something as simple as a USB outlet could offer so much homeowner convenience and happiness!  The truth is, even the simplest of conveniences can make such a difference in the way today's families live in their homes.  Why not have the ability to plug your device right into a USB outlet, because no one has time to look for adapters and cords!