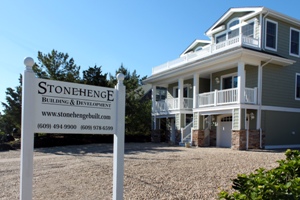 When it comes to building a new custom home on Long Beach Island, there are a lot of choices for everything, from design plans to locations, and builders. So, how does a homebuyer know where to start? And, how do you proceed if you already own a property to build on versus someone who doesn't? LBI can be a little confusing to navigate if you aren't familiar with the home building market, but we are breaking it all down in this article, so you can feel comfortable making a land purchase decision, choosing a house design, or deciding on who you will work with to build your new custom home on LBI.
You Have Your Perfect Property, but Not the Plans
If you have already purchased a property and need some help with demolition, house design, and construction, it's important that you fully understand the process of getting from a cleared lot to a completed dream home. The bidding process can be quite confusing because different builders offer different specifications and building materials in the homes they build. In addition, they can offer different levels of service and pricing for things like demolition, engineering, and permitting. So, if you are shopping your plans around to multiple builders, be sure you are comparing the same specifications and materials. Little things that are not part of the quote can turn into big -ticket items that add up during construction. So, if there are specific materials, features, or products you would like in your new home, be sure to let your builder know before the bid is submitted, and keep your list consistent across all bidders so that you can compare bids that are for the same home with the same specifications. And one last thing, it's not ethical to take plans from one builder and have an architect draw them up for bidding by others; however, we see this happen all the time. It's not cool – don't be that buyer.
You Have the Plans & the Property
In this scenario, it comes down to hiring the right builder for your custom home. There are a multitude of custom home builders who work on LBI. Some of them are based on or near the island. Some of them are from out of the area and "work out of their truck". Our best advice is to check a builder's record with the local towns, banks, attorneys, and past customers. Inquire with the Shore Builders Association to see if they are a member in good standing. And take a look at the Better Business Bureau's website to see if they are rated. In addition, do an online search for reviews of the builder you are considering, as well as on Houzz.com, a very useful website for homebuyers who are searching for a builder and products for their new home.  By doing your research, you can learn a lot about a builder's reputation before you sign a contract. Trust your land to someone it will be safe with, not just the lowest bidder.
No Lot, No Plans? No Problem!
Not only can we build custom homes on LBI, our realty company, Stonehenge Realty, can help you find the location of your dreams for your new custom home. Depending on your budget and desired location, we can find the perfect lot, whether you are looking for bayside, lagoon, or ocean. We can help you determine the best location for your money, while taking into consideration the types of activities, like water sports, or sunbathing, you prefer. Once we find the perfect property, we can transform it through demolition and construction, into your perfect vacation or full-time residence.
There are a lot of moving parts when it comes to selecting the right location and building a new custom home on Long Beach Island. We have customers that come to us in all these stages, and have even finished building homes for customers that started with a different builder. Many of our customers come to us just by driving by other homes we have under construction on the island. For over 20 years we have been helping families realize their dreams of owning a home on LBI. We have been named Best of Houzz for the past two years, and have an A+ rating with the Better Business Bureau. But most importantly, our past homeowners are our biggest asset in that they are happy to let future homeowners walk through their completed homes, and tell them the story of working with Stonehenge. If you have questions, or would like more information about building a new custom home on Long Beach Island, we would love to talk to you.