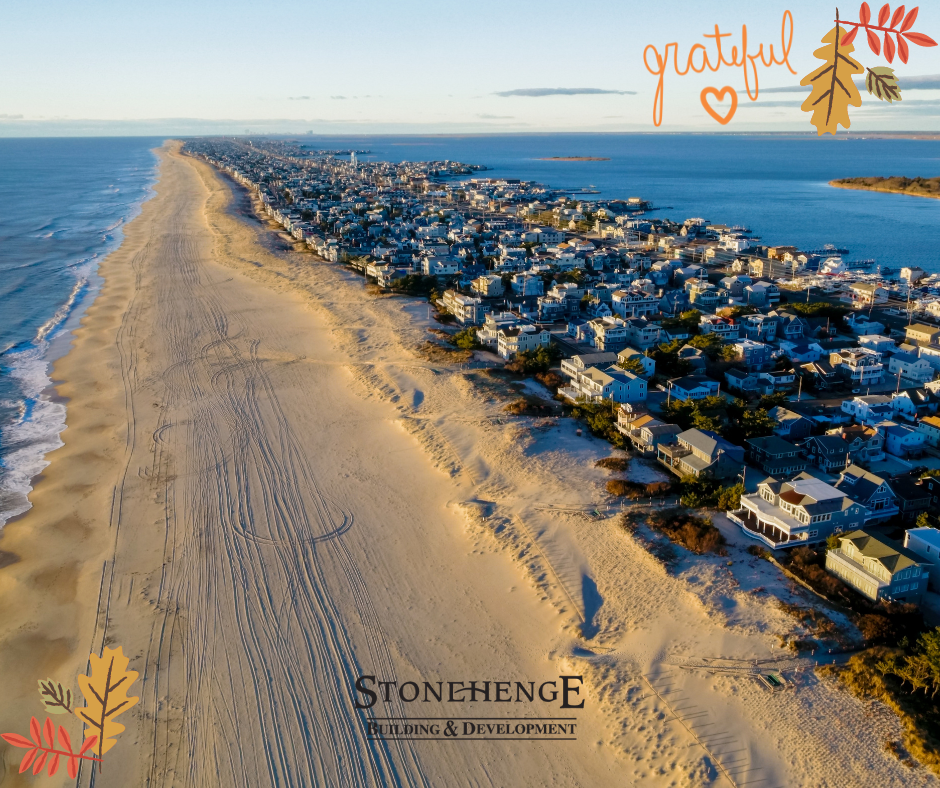 With Thanksgiving just around the corner, our team at Stonehenge Building & Development is taking the time to reflect on our more than three decades in business as an LBI custom home builder. From the people we love to the things we sometimes take for granted, there's so much for all of us to be thankful for in both our personal lives and as an LBI builder. You might be surprised for the things our Stonehenge Building & Development family is grateful for, or you might not realize what you've meant to us, so that's why we're sharing the "things" that we're grateful for this holiday season:
Our Amazing Home Buyers Who Become Part of Our Family
Without our home buyers, Stonehenge Building & Development would still be a dream. We are so grateful that our home buyers entrust our team with one of the biggest decisions of their lives. By choosing to build their new custom home on LBI with us, our home buyers have granted us the opportunity to become a part of their lives, and we are continually thrilled and humbled by their decision to work with us.
We would like to thank all our home buyers who have worked side-by-side with our team to create the custom home of their dreams. We also appreciate the time they have taken to share their thoughts and experiences via social media and industry websites like Houzz. Their kind words mean a great deal to us. We take pride in the knowledge and expertise we have gained over the years in building custom homes on Long Beach Island and these reviews reflect our dedication to building a relationship with our customers and community.
We are Grateful for LBI
Our communities are a truly special place to build your dream home. With some of the most beautiful beaches and bays in the country, our home buyers gain a piece of paradise when they build a house on LBI. With different areas and amenities in each of our unique shore towns, there's a place for everyone to call "home". Families can have fun together on the beach, bay, and entertainment venues. The nightlife in our towns draws in arts, culture, and restaurant goers throughout the summer months. Bay front homes offer our clients the ability to step out of their backdoor and partake in numerous recreational activities. From boating to kayaking and water sports, living on the bay offers the best-of-both worlds, where you can crab or fish right in the privacy of your own backyard. There is definitely something for everyone on LBI and we love it here!
Our Awesome Team
At Stonehenge Building & Development, our employees are the heart of our company. We are a family building custom homes for families, and we believe our team of highly regarded building professionals is the best in the industry! We couldn't imagine doing this without our great employees and contractors. From the bottom of our hearts, thank you to our entire team for all they do to make our homeowners happy and make every project beautiful.
Relationships with Our Towns
Building a custom home on LBI means we need to be familiar with local inspectors, codes, and tradesmen. Earning the trust and respect of our communities' township officials and inspectors means that our staff and crew are highly regarded for the work we do. The towns know when we apply for permits, or call for inspections, that our staff will do what is needed to provide information requested and complete the process so we can move on to the next phase. These relationships are critical to our success, and we are so grateful to work this well with our townships on LBI.
It's not hard for companies to get caught up in the everyday hustle and bustle of doing business, moving projects forward, and completing tasks. At Stonehenge Building & Development, we are reminded everyday by our team and home buyers how grateful we are to be a part of our communities here on LBI as well as for being entrusted with one of the biggest decisions in our clients' lives. One of the ways we like to give back is by donating turkeys to Long Beach Township to help those in need. There are so many things the team at Stonehenge Building & Development is grateful for this holiday season, that we wanted to share with all of you. From all of us here at Stonehenge Building & Development, we wish you and your family a very Happy Thanksgiving.