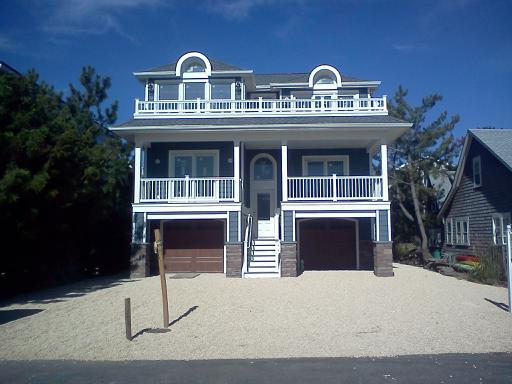 If you have been dreaming of that custom built home on Long Beach Island there are some things to consider when choosing a building company.  For instance, some of your questions may be:  Are they reliable?  Will they do what they say they will do, for the price they say it will cost?  With so many details to consider and efforts to coordinate when building a new home, how do you know which builder can most successfully accomplish the task?   There are many reasons why using a company that has experience building homes on LBI will prove to be a good decision.  But don't take our word for it.  Here are what some homeowners who have been through the construction process have to say about choosing a custom homebuilder.
Shirley and Bill Wissemann, whose existing home was damaged by Superstorm Sandy and needed to be demolished and a new home built in its place, chose Stonehenge Building & Development.  After the couple moved back into their newly built home, here's what they had to say:
"We want to thank you again for rebuilding our beach house.  The thought of rebuilding our house was very overwhelming – that is until we met you.  You took a lot of time to explain the process and alleviated most of our anxieties.  We met with two other reputable builders, but your personalities clicked with ours.  You were so helpful, patient and responsive to all of our many questions.  We were thoroughly impressed with your business plan.  Unlike the other contractors, you had an architect (including your expert recommended improvements) make drawings of the house upon which the contract was based so we knew what we were buying and that the contract price would minimize extra work."
Here's the Takeaway:  Your custom homebuilder should have the resources to provide all of the information, specifications and designs up front so that you can have a level of comfort with knowing exactly what you are purchasing and what the costs will be.  In addition, having the knowledge, expertise and patience to answer all questions should be a top priority for the builder you choose.
For some homebuyers, it's really a matter of comfort, as it was for Cheryl & Tom D'Altrui.  They had already purchased a building lot and needed a builder.  According to them, "We needed a builder that we could trust and afford.  After interviewing several builders, we selected Stonehenge Building and Development.  We felt comfortable with them from our first meeting.  The people at Stonehenge supplied extensive lists of past customers and arranged for us to tour a custom home that they had recently completed, as well as offering addresses of other homes that we might want to 'drive by'."
Here's the Takeaway:  In this case, the history of the building company and the ability to provide references, as well as samples of homes that were already built was an asset to our potential customer and it made a huge difference in the choice of builder they made.
Timing can be everything.  And it was for the Johanson's.  "It was an exciting time for building our new home.  From start to finish it was a joy to completion, with excellence, wonderful knowledge and all done in a timely manner."  This sentiment held true for Karen & Steve Tyburczy, who "were so glad we had Stonehenge build our home.  They updated us with reports and even went as far as providing pictures of the progress on our home.  Our house was built right on schedule."
Here's the Takeaway:  Having an in-depth knowledge of the towns on Long Beach Island, and the ability to keep within the timeframe and construction schedules can be critical to most homebuyers.  In addition, taking the extra time to document the status and provide photo updates whenever possible, can clearly make a difference in the overall satisfaction for a homeowner.
No one knows our area like a local custom home builder, so when you are considering a company to build your new custom home, think about local companies, like Stonehenge Building & Development, who has been building custom homes on Long Beach Island for over two decades.  This experience, along with their knowledge and expertise in building custom homes on Long Beach Island made for an exciting and satisfying building process for these and many more clients.  For more information on building your custom home on LBI, contact us today.