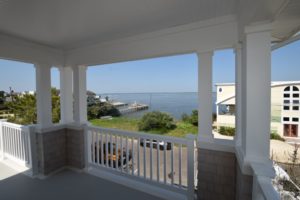 One of our favorite towns to build in on Long Beach Island is Harvey Cedars. It's not just because we have an office in Harvey Cedars. It's because there is an array of amazing properties, as well as an incredible vibe throughout the borough that creates an atmosphere of family, fun, and community. Introducing our Spotlight LBI: Harvey Cedars! Here's why we think this borough is an amazing place to build your new custom home on LBI.
Amazing Properties
One of the top reasons we love to build in Harvey Cedars (besides our exemplary reputation with the borough 😁) is the diversity of property types available for those interested in building a new custom home. From beachfront to bay side, or interior lots with beautiful views of both beach & bay, there is a property type that will work for you. Check out the differences between building on the beach front or bay side in our previous blog.
Incredible Vibes
Harvey Cedars is a borough that sits between Long Beach to the south and Barnegat Light to the north. It's one of the quieter boroughs during the summer and has an array of restaurants and shops within walking distance. The borough's beautiful beaches are pristine. With weekly concerts at Sunset Park and a variety of summer craft shows, there's always something to do in Harvey Cedars. In addition, many local community groups have events throughout the year. For instance, the High Point Firehouse is having a wine tasting on November 9th. If you're looking for a fun, family vibe, Harvey Cedars is the place for you!
Family, Fun, & Community
There is a great sense of community in this little borough that extends to residents and visitors all year long. From fishing tournaments to golf classics, and everything in between, Harvey Cedars has something for everyone in the family. Thanks to the Harvey Cedars Activity Committee volunteers there are events like art festivals, movie nights at the firehouse, and coffee with a cop. These are just some of the community events that bring residents together. Harvey Cedars is the type of place where neighbors are friends and people know each other!
Where can you find more information on Harvey Cedars? We recommend taking a look at the town website http://www.harveycedars.org/ to learn about the borough services, departments, activities, and events. We have been building custom homes in Harvey Cedars for almost two decades. We have amazing relationships with the personnel in the building departments, as well as the inspectors. If you have any questions about building your new custom home in Harvey Cedars, or any other town on LBI, feel free to contact us. We're here to help make your LBI dreams come true!