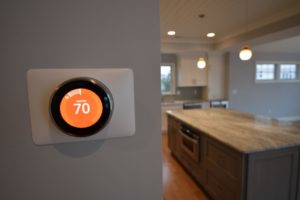 You all know we've been building new custom homes on Long Beach Island for over two decades. Keeping up with advances in construction has been one crucial aspect of our success. When it comes to technology for new custom homes, new products are introduced rapidly. Our homebuyers are super savvy when it comes to the technology they want in their new homes. Here are some of the most recent technology for today's new custom homes our homeowners want.
Nest Smart Thermostat
Nest is now on its third generation of smart thermostats and has recently partnered with Google to become Google Nest. Our home buyers love Nest because it gives them complete control of their home's temperature no matter where they are. It is also the first thermostat to get ENERGY STAR certified. It actually learns what temperature you like and builds a schedule around yours. Independent studies show that this thermostat has saved homeowners an average of 10-12% on heating bills and 15% on cooling bills. It can pay for itself in under two years. There are so many reasons to love Nest for your new custom home on LBI!
Safe & Secure with Ring Doorbell
A doorbell is just a doorbell, right? Not with Ring Video Doorbell! A simple idea by Ring Inventor Jamie Siminoff kicked off a modernization and technology integration in one of the most basic of home features. As the product offerings expanded, Ring became more than a video doorbell system that allows homeowners to see and interact with whomever rings their doorbell. Now Ring offers security cameras, floodlights, and full security systems for your home. In addition, the Ring App comes with neighborhood notifications, so you can be informed by other users of things that happen near your home. No matter your security needs, Ring is the perfect solution!
Water & Leak Detection – there's an app for that??
Many of our homeowners have used the Water Hero leak detection & water monitoring system. This system helps protect home from water leaks like burst pipes and failing water heaters. It also detects non-damaging leaks that increase water bills like eroded toilet flappers. Water Hero is controlled by the company's web & iOS app, where you can see water usage history, valve position, home temperature and more. It is fully configurable to control alerts from anywhere. This is another new home tech tool that can save homeowners thousands, especially when you may not be in your home year-round.
Smart Door lock/handsets
Another great smart home product are door locks or handsets that operate via Bluetooth and an app. All of the major manufacturers of door handsets offer these technology options, like Schlage, Google Nest, Kwikset, and Lockly. Some of these doorlock systems even integrate with your Alexa, Apple Homekit, Google Assistant, or Nest security systems. Specific features and operation of the door lock system will depend on which one you choose. Our homeowners like to have integrated systems for many of these smart home devices so they don't have multiple apps to control the different devices.
When you are building a new custom home, it's imperative to plan out all of your systems, including security and technology. This will make it easier to incorporate the systems that will most efficiently accomplish your goals. No matter where you are planning to build your new custom home on LBI, Stonehenge Building & Development is here to help you design, plan, and build! Contact us today for more information on smart home technology.