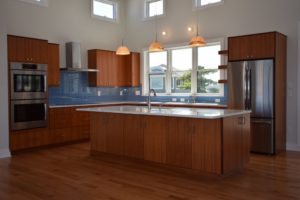 We've built a lot of custom homes on Long Beach Island. With our experience comes the ability to continually find exciting materials and products our homebuyers are looking for. We have so many gorgeous homes in our portfolio to help our buyers when making design selections for their homes. It is our goal to always provide inspiring features for custom homes that we build on Long Beach Island. We would like to share with you some of our top picks.
Interior Doors
Doors are so functional that sometimes we forget how many there are in a home and that the look of your interior doors matters! Barn doors have become all the rage in last few years and homeowners love them. They are available in a variety of styles and the magic is all in the hardware! The door hangs from hardware installed above the door opening and the barn door slides along the track to open or close the door. One popular option we have installed are barn-door style shower doors. The hardware can be modern or traditional. We love the look of a barn door for just about any room (or shower) in your home.
Cabinetry & Kitchen Bling
We've been seeing a trend toward boldly patterned and colored backsplashes. We consider this the "bling" of the kitchen, along with pendant lighting, and cabinet hardware. In addition to these stunning details, we are seeing more color, particularly cabinets of varying colors for both wall & island cabinetry. Our homeowners are choosing bright blues, dark grays, and even sunny yellows! Concealed storage in the kitchen is also inspiring. The more storage – the better! But if a wall of cabinets for storage in the kitchen is not the look you were dreaming of, consider replacing your upper cabinets with open shelving instead. No matter your taste there are many selections for your kitchen that are inspiring, yet functional.
Outdoor Living
One of our favorite places in a new custom home is the outside! With a variety of features, like outdoor fire pits, Gunite pools, and screened in porches & patios, our homeowners are just as inspired by their outdoor living space as they are their indoor spaces! There's nothing more enjoyable than spending time outdoors with family, especially now. Let's talk about some of our most popular features for outside.
First, fire pits can be either wood burning or fueled with natural gas. They can help extend your season of enjoyment by providing warmth. They also provide a glowing ambiance to any outdoor gathering. Next, we love Gunite for the in-ground pools and spas we build for our homeowners on Long Beach Island. Lots can be tight on LBI and Gunite is the perfect solution because the pool can be any size or shape. Lastly, after a day in the sun having fun, a nice glass of wine enjoyed in a screened porch or patio with friends is the best way to end the day. Our homebuyers have been maximizing outdoor space by adding access from living areas, including bedrooms. We can also provide automatic screens that raise and lower with just the touch of a button! Nature can be very inspiring, so don't forget your outdoor living space when designing your new custom home on Long Beach Island!
Working with new home buyers to get started on building their custom homes on Long Beach Island is exciting, no matter how many homes we've built. Our online portfolio of homes always provides inspiration to get started. The opportunity to work with buyers on property searches and provide valuable information on building, as well as custom home design is great, but we love when we are ready to select finishes for the new home. There has never been a better time to build a new custom home on LBI!  Contact us today to get started.