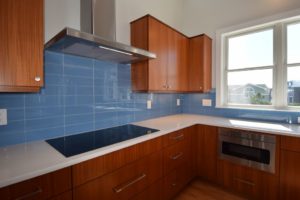 Every year in January we like to bring our readers some ideas and information on what will be trending for new custom homes on LBI. This year, with the new decade, we feel like it's even more important to start the new year off right with what we are seeing for the future of building materials and products. You may be surprised by some of these, and others you may already have seen or heard of. Either way, we love bringing what's on trend for the new decade for custom homes on LBI!
Kitchens for Living
The new decade is bringing a new trend for kitchens: versatility! But, what does this mean for custom homes on LBI? Haven't our kitchens always been designed around family life? The answer is yes, but these newest trends include furniture-like aspects to reflect the home's overall décor theme. Custom cabinetry to hide away things like small appliances, with plenty of storage so that your kitchen is organized and tidy. Pops of warmth with colors and textures (like wood accents on range hoods) are trending in a big way. The long and the short of it is that the kitchen is, and always will be, the heart of the home.  Your kitchen design should reflect the way your family lives.
Composite Materials
The trend that began last year, has seen internet searches increase by 28% for composite materials such as Terrazzo. This particular material is made from chips of marble, quartz, granite, and glass. It's perfect for backsplashes, countertops, and flooring. It's only a matter of time before this becomes a standard housing material.
Eco-friendly is Still a Thing
The last decade has been huge for eco-friendly products. We've talked a lot about materials such as bamboo flooring, sustainable building materials, and natural organic products for new home construction. This is an ever-growing trend for new construction and custom homes. Our clients continue to ask for building products that are less impactful on the environment. They are also including technology to help with this, such as Nest thermostats, and other apps that help home systems operate more efficiently. We look forward to continuing to help our homeowners achieve their eco-friendly goals for their new custom homes on LBI.
Colors
Neutral colors are always the base of any home's color palette, but this year we are moving toward warmer colors like coral and ocher. In addition, classic blue is the new popular color for 2020, as selected by Pantone Color Institute. This color has been named Color of the Year! We have actually seen this color being popular for kitchen cabinets, such as for center island colors.
We loved sharing what's on trend for the new decade for custom homes on LBI with you. We agree with the first trend we listed, that the kitchen, and quite frankly the entire home, should be designed around works for your family. From the inside to the outside, your new custom home on LBI should be a place of style, comfort and function.  As a long-time builder on Long Beach Island, Stonehenge Building & Development has constructed countless homes on the island and the mainland for over two decades.  We can provide home plans or build from yours. Our construction experience in towns along LBI like Harvey Cedars, Loveladies, Brant Beach, Surf City, and Ship Bottom to name a few, enables us to take you through the process of building a custom home without the hassle of a learning curve.  If you are considering building a new custom home on LBI or a neighboring town, contact us today for more information.