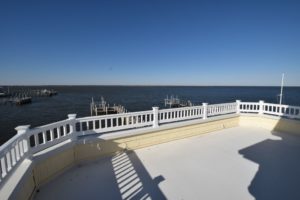 Surf City is centrally located on Long Beach Island. With plenty of shopping, restaurants, and a beautiful bay beach, it can offer the right amounts of things to do and privacy. With a population of just over 1,200, this little hamlet of a borough was born in 1894 from portions of Stafford Township and was originally named Long Beach City. It was renamed Surf City in May of 1899 by a resolution of the Borough Council. This great location is less than a square mile and is bordered by Long Beach Township, Ship Bottom, and Stafford Township. We love building in Surf City, so we wanted to share why in our latest Spotlight LBI: Surf City!
Diverse Properties
We love to build in Surf City because there is an amazing diversity of property types available for those interested in building a new custom home. From beachfront to bay side, or interior lots with beautiful views of both beach & bay, there is a property type that will work for you. The bay offers opportunities for a more private waterfront experience, amazing views from your home, and access to boating. The Surf City Yacht Club is right smack in the middle of the bayfront properties! Living off the boulevard provides easy access to all of the shopping and dining (many of them within walking or distance). Beachfront properties are still coveted in Surf City, and snagging one takes great timing and opportunity. Check out the differences between building on the beach front or bay side in our previous blog.
Centrally Located
Because Surf City is centrally located on the island, basically it's right off E. Bay Ave. (Rte. 72) as soon as you get off the bridge, it's convenient to get to every weekend. It's one of the busier boroughs during the summer and has an array of restaurants and shops within walking distance. The borough's beautiful beaches are pristine. We mentioned the Surf City Yacht Club, so obviously boating and fishing are huge activities for those in Surf City. There's also a mini golf course for some friendly competition. Surf City is a great place for families to enjoy time together at the beach or bay.
Building a Custom Home in Surf City
Surf City is a great place to build your custom home on Long Beach Island. As we mentioned, there are diverse properties, it's centrally and conveniently located, and there are plenty of stores and restaurants for your everyday needs. With enough available properties for demo and building, there are choices of locations to meet your family's unique needs for a new home. Because we've been building in this borough for over two decades, and are familiar with the township officials, inspectors, and codes. This makes a huge difference in having your construction process go smoothly and seamlessly. We have a stellar building reputation in all of the towns on LBI, which you can ask anyone in any township office about.
Where can you find more information on Surf City? We recommend taking a look at the town website https://surfcitynj.org/surf-city-beach-badges/ to learn about the borough services, departments, activities, and events. If you have any questions about building your new custom home in Surf City, or any other town on LBI, feel free to contact us. We're here to help make your LBI dreams come true!