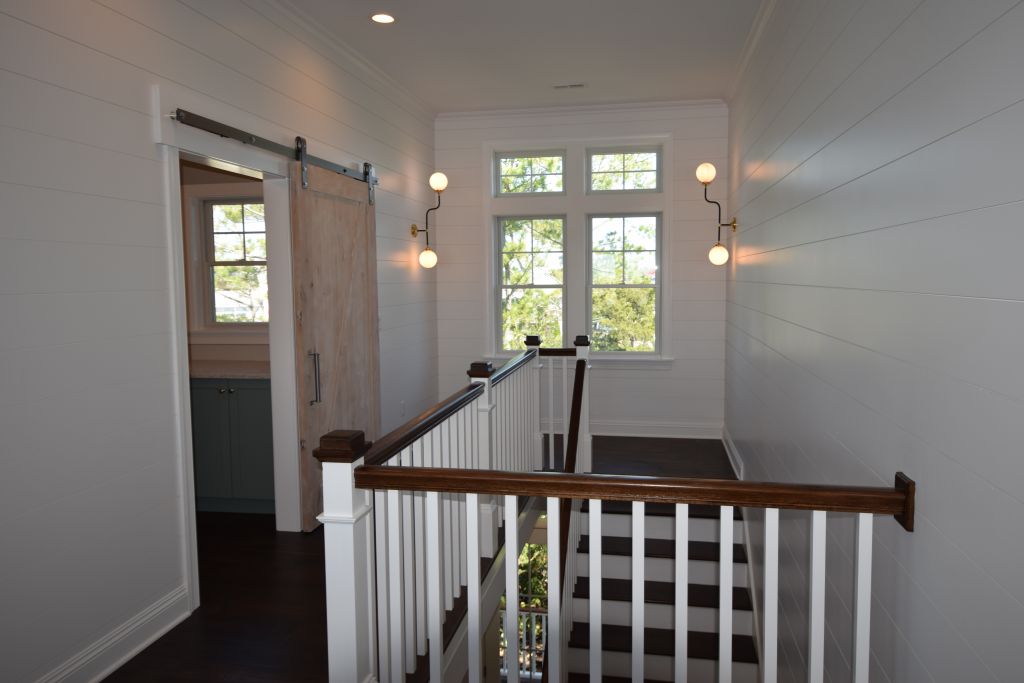 One of the most underappreciated features of a new custom home are interior doors. What many homeowners don't realize is that interior doors take up a lot of real estate (pun intended) in a home. They cover a lot of wall space, depending on how many rooms you have. In our opinion, interior doors are a design detail that can enhance your home and provide a level of warmth and beauty. Here are our best choices for interior doors for custom homes on LBI.
Panel Doors
Panel doors can be a versatile choice, depending on the style of the panels. A more traditional looks are six panel doors. These are very common and can be painted or stained depending on the type you are installing. Three panel, four panel, and everything in between are choices and can range from somewhat modern to classic, or even farmhouse, craftsman or Cape Cod styles. Panel doors can provide a beautiful look to any style custom home on LBI.
Solid Wood Doors
Solid wood doors are a great choice and can offer many styles, wood types, and staining possibilities for any home's interior. Solid wood doors can also offer an added level of privacy throughout your home because they can block noise more affectively due to their density. Many homeowners choose solid wood doors for the beauty of the wood and ability to stain and clearcoat the doors. You can also paint solid wood doors if staining is not the look you are after. There is nothing like the sound of a solid wood door closing behind you in any room!
Pocket Doors
A fun, favorite way to enclose a space is with a pocket door. Pocket doors have been around for ages. Basically, they are doors that slide into the space between the walls when you want the room open, and when you are ready for some privacy, you pull the hardware on the side of the door and close the pocket door! These are real space savers because you don't have the standard swing of the door to account for when opening or closing. A pocket door can be installed in any room, including bedrooms, bathrooms, and offices.
French Doors
Interior French doors are a fabulous look and can be either single or double doors. French doors can be solid or include glass panels. Much like solid or panel doors, French doors come in a variety of styles. The most typical style of French door are 15 lite, meaning there are five small panes of glass high by three small panes of glass wide. French doors with glass allow for more light to flow into your room while maintaining a level of privacy. If you like the look of a glass French door but need absolute privacy (like on a bedroom) you can opt for obscure or frosted glass panes to add some privacy. We have installed French doors on bedrooms, offices, studies, laundry rooms, and pantries.
Barn Doors
These have become all the rage in last few years and homeowners love them! Barn doors are available in a variety of styles and the trick is all in the hardware. The door hangs from hardware installed above the door opening and the barn door slides along the hardware to open or close the door. While the look can be quite fabulous on certain rooms, we do have to caution that your privacy for bedrooms or bathrooms can be limited when you install barn doors. One popular option we have seen are barn-door style shower doors. The hardware can be uber modern or traditional, but we love the look of a barn door on a shower.
Transoms & side lights
Doors can be dressed up quite a bit using transoms and side lights. Transoms typically are above a door and are panes of glass that allow for light to enter a room without compromising the room's privacy. They look great above solid or glass doors and the glass can vary from standard clear to glass blocks, and even stained glass transoms. Side lights can be installed on the side of a door, or both sides, and can have similar options on the glass as transoms. Sidelights usually go hand-in-hand with French doors.
As you can see, interior door styles are vast. It can be a little daunting to figure out the style of interior doors that will work best in your new custom home on LBI. Not to worry, because our on-staff Design Coordinator can help you make the best choices throughout your home, including your doors! If you are building a new custom home on Long Beach Island and are looking for a custom home builder with a reputation for excellence, please contact us today!