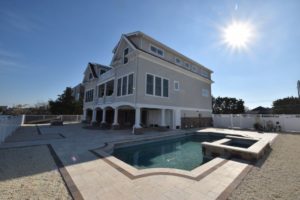 Loveladies is another of our favorite places to build custom homes on Long Beach Island. It is situated in one of the northern most sections of Long Beach Township on the island. This unincorporated community sits between Barnegat Light and Harvey Cedars. Loveladies is a little hamlet that offers a more private and peaceful atmosphere as compared to some of the busier, bustling towns along LBI. This Spotlight LBI: Loveladies will give you some of our favorite things about building custom homes in this beautiful town.
Lot Sizes
Most of the custom homes we build on Long Beach Island are on standard or average lots. That's the nature of properties on LBI. It's not impossible to find a large lot, especially in Loveladies. With larger lot sizes, we've been able to create some really special homes for our homeowners in Loveladies. Amenities like pools, outdoor kitchens, and fire pits are more prevalent in our custom builds because the lots offer more room for these features. In addition to additional outdoor amenities, the home itself can have a larger footprint. We've built some incredibly beautiful homes in Loveladies, and always look forward to an opportunity to build on larger lots in this town.
Property Values
Larger lot sizes usually bring along with them higher property values. The larger your lot, the more your new custom home's value will be. More square footage in a larger home, more bedrooms and bathrooms, and more features like pools and outdoor kitchens can add value to your home. While we can't guarantee your home will be worth more than your neighbors, building a custom home on a larger property in Loveladies can help your home retain a higher property value, as compared to other homes in other towns throughout LBI.
Peace and Privacy
Different towns are known for different vibes on LBI. Some towns are bustling and busy during the summer months. There are shopping, dining, and entertainment venues galore. Loveladies is a quieter, more peaceful, private town. You'll find a lot of families enjoying beach time, and the sounds of nature. Loveladies is perfect for those looking to relax, take in the beach scene, and enjoy the peace and quiet.
We've built many homes in Loveladies over our two decades of building custom homes on Long Beach Island. It's always bittersweet when the home is done its time for us to move on. It's one of those towns that we truly enjoy the experience of building in. If you are looking to build a custom home and think Loveladies might be the right location, let us help you find the perfect property. Learn more about what other families' have experienced with us while building a new custom home on LBI.